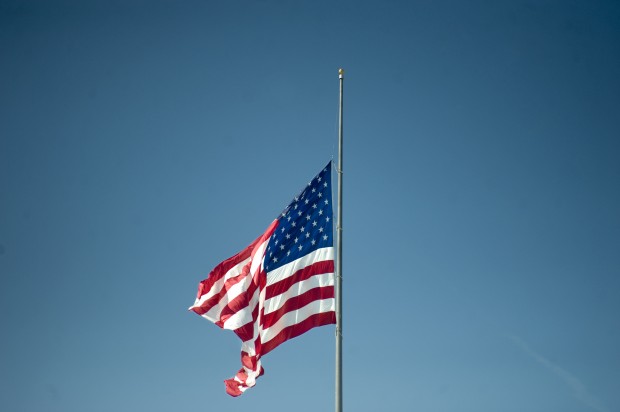 "The things that the flag stands for were created by the experiences of a great people. Everything that it stands for was written by their lives. The flag is the embodiment not of sentiment, but of history." Woodrow Wilson
"On Memorial Day the flag is raised briskly to the top of the staff and then solemnly lowered to the half-staff position, where it remains only until noon. It is then raised to full-staff for the remainder of the day." (WP)
A flag at half mast. Hmm. So symbolic to me. Most things are.
A life lived with ups and downs, a life cut short in death or altered by physical and/or emotional wounds, a life honored and mourned, lives blessed because of another's sacrifice.
So many memories. So many stories.
I'll visit my father this weekend, as I do most weekends. His military service is on my mind right now because Memorial Day is coming next Monday. Memorial Day, sad to say, has never been more to me than a day of parades  and cookouts. This year is different. I want to ask my father about his military stories. I want to sit by his bedside at the nursing home that he never leaves and ask him if he'll tell me some stories. I want to record his voice as he tells me about the one photo I have of him at that time.
I saw it for the first time on my grandparents' bedside table at their home on St. Thomas,VI. I remember the cool marble floor under my little girl feet, and the sounds of laughter coming from the  sunken marble bathtub just around the corner to the right of that little table. He was so handsome in his uniform. I felt humbled for a moment as I stared at him, and he stared back at me from 1955-  four years before he was married, six years before I was born.
He was 19.
How did he feel about his service? What were some of his experiences? He's such a character! I'll bet he has some fun memories.
When I record his story, I'll upload it and the scanned picture into my account with Legacy Stories as a "Talking Photo". Any family member or friend who creates a free account and becomes my friend can then hear the story as my father tells it in his own voice. Isn't that amazing? And when he dies, and he will someday, I will permanently link that "Talking Photo" to him on my family tree on FamilySearch.org, as I will do for all of my stories and photos of my ancestors. Then anyone who finds him on FamilySearch.org will see that there's a link to him over at Legacy Stories where there are stories, videos, and photos of him waiting to be enjoyed, learned from, and shared.
When I see the flags at half-mast next Monday, I won't just think about  my ancestors who served and how important it is to find them, get to know them, and honor them. I'll think of my father and how he's still alive to tell me about his life and how grateful I am to have him around to share those memories with him. Those memories are priceless. They are part of the fabric of who he is.
Just like our country's flag.
And I want to get to know him better.
P.S. I'll post the picture and a link to the "Talking Photo" as soon as I get it so that you can see and hear it. Hopefully it'll be attached to my Sunday Series!!